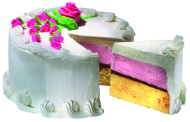 Cakes, Pies & Ice Cream for your gathering!
We have 8" cakes, 9"x12" sheet cakes and pies made fresh in our store for your gathering. Cakes start with a base of chocolate or yellow cake, a layer of fudge or caramel, and to top it all off an ice cream flavor of your choice.
Pies have a graham cracker or Oreo crust base, a layer of fudge or caramel and then ice cream of your choosing.
We have pre-made pies & cakes for you to pickup right away or you can customize and special order your cake or pie.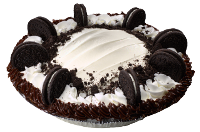 Special orders usually take three days, but if you're in a time crunch call us, we might be able to speed things up. We'll try anything with cakes. If you would like something more unique, need a big cake for your wedding or really big gathering, call us and we'll discuss how we can help.
For special orders call us at (410) 295-0025 or e-mail us here.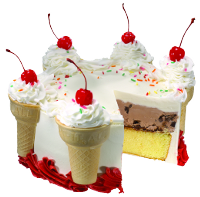 | | | |
| --- | --- | --- |
| Pie | Serves 6-8 people | $16.95 |
| 8" cake | Serves 12-16 people | $24.95 |
| 9"x12" sheet cake | Serves 20-24 people | $34.49 |
For maximum cake enjoyment, take the cake out of the freezer one hour before serving and eat it within a week of pickup from Bruster's.